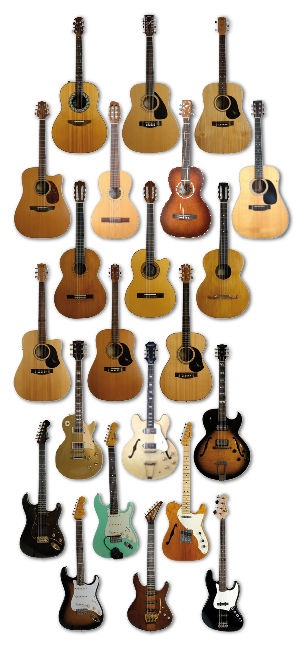 CHITARRE ELETTRICHE
FENDER "Telecaster thinline 1969"
LEVINSON "BLADE Rh-4" 1987
LEVINSON  BLADE Texas standard 1999
SQUIRE Strato '57 -1983 ( Pick-ups S.D. SSL2 neck & middle, S.D. JB j bridge)
ANGEL by N.G.L.  -1988 (Pick-ups fender '57)
GIBSON Les Paul gold top 1967 (Paf Replica Pick.ups)
GIBSON ES 175, del 1994
Ephipone Casino del 2010
Squire Jazz Bass. 2006
CHITARRE ACUSTICHE
MARTIN D 28 P – 1989
MATON EBG 808 Artist – 2000
MATON CW 80, cedar top – 1998 – Elettrificata K&K "pure mini"
TAKAMINE NP 15 C  – 1989
OVATION 1612 natural – 1983
YAMAHA FG411 12 strings – 1996
ART & LIUTHERIE  Amy Cedar (Travel guitar)  – 2007
CHITARRE ACUSTICHE "Special Tuning"
MATON EM 525(baritone guitar tune) -1998
MATON EM 125 (nashville tune) – 1998
CHITARRE CLASSICHE
GIBSON Chet Atkins (nylon natural) – 1990
P. SANTAGOSTINO 1985 (liuteria)
ART & LIUTHERIE Amy Nylon Cedar 2007 (Travel guitar) amplificata K&K mini pure classsic
__________________________________________________________________________________
AMPS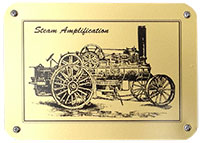 MARSHALL JTM 45 plexi  ( 50w. HEAD)
FENDER Twin 100w COMBO
STEAM AMP HD 30 dual Head (30w HEAD)
STEAM AMP BE 40 dual Head (40w HEAD)
Line6 Pod 2.0, stereo preamp. (con line6 floorboard)
HUGHES & KETNER VS 250 Power Amp
CABINETS
MARSHALL 4×12 /1960 TV(celestion green back 25w speakers)
STEAM AMP 4×10 (jensen ceramic vintage speakers)
STEAM AMP 2×12 (EVM12 L speakers)
2 x Steam Amp  1/12 (Celestion Vintage 30)
AeR ACOUSTICUBE 112 + CX 8 stereo ext. + AeR sub
(per chitarra acustica/classica)
Rack
I use this set up only for recording
I mic the cabinet with a shure SM-57 and SE 2200a in a NEVE 1073 DPA.
The dry signal goes in the rack direcly from the neve or from a ProTools aux send.
The rack has the follow
DBX 160 A compressor / limiter
CUSTOM AUDIO ELECTRONICS Dual Line Mixer,
EVENTIDE H-3000S,
EVENTIDE DSP 7500,
LEXICON PCM70,
BOSS SE70,
ROLAND DEP-5.
Yamaha MG 124 CX (12/2 Mixer) – per le chitarre acustiche
Pedalboard 1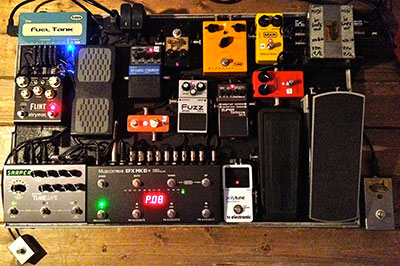 MUSICOMLAB MKIII+ Audio controller
All pedals are before the amp in this order:
Steam Amp Clean boost (loop 1)
Boss FZ5 Fuzz, Boss OC3 Poliphonic Octaver (Loop 2)
MOOER ninety orange analog phaser (loop 3)
TREX MudHoney (loop 4)
DUNLOP cry baby, ERNIE BALL volume Pedal( between loop 4 & 5
MXR distortion + (loop 5)
Steam Amp "plexi driver "(loop 7)
ARION SCH-Z stereo chorus (loop 8)
STRYMON Timeline
STRYMON Flint
I can switch these pedals in front of the amp or in the send/return with
Steam Amp MB-8 line-out interface
M Audio EX- P (expression pedal for Strymon timeline)
TC electronics Polytune. (in the tuner in of MKIII+)
TREX Fuel tank  power supply
Pedalboard 2
Wha wha vox – MXR dynecomp – Boss TR 2 tremolo – Boss DD-2 D. Delay
Digitech Hardwire RV7 stereo reverb (By Lexicon) – MODTONE tremolo .
Pedalboard 3
Ibanez TS-9 – Boss, SD-1 super overdrive – Steam Amp "two valve pre –
DoD power supply
Pedalboard 4
Line6 MM4, Line& DL4, Steam Amp power supplì – BOOMERANG Phrase Sampler +,
I can insert the  Pedalboard I need in the loop 6 of the MKIII+